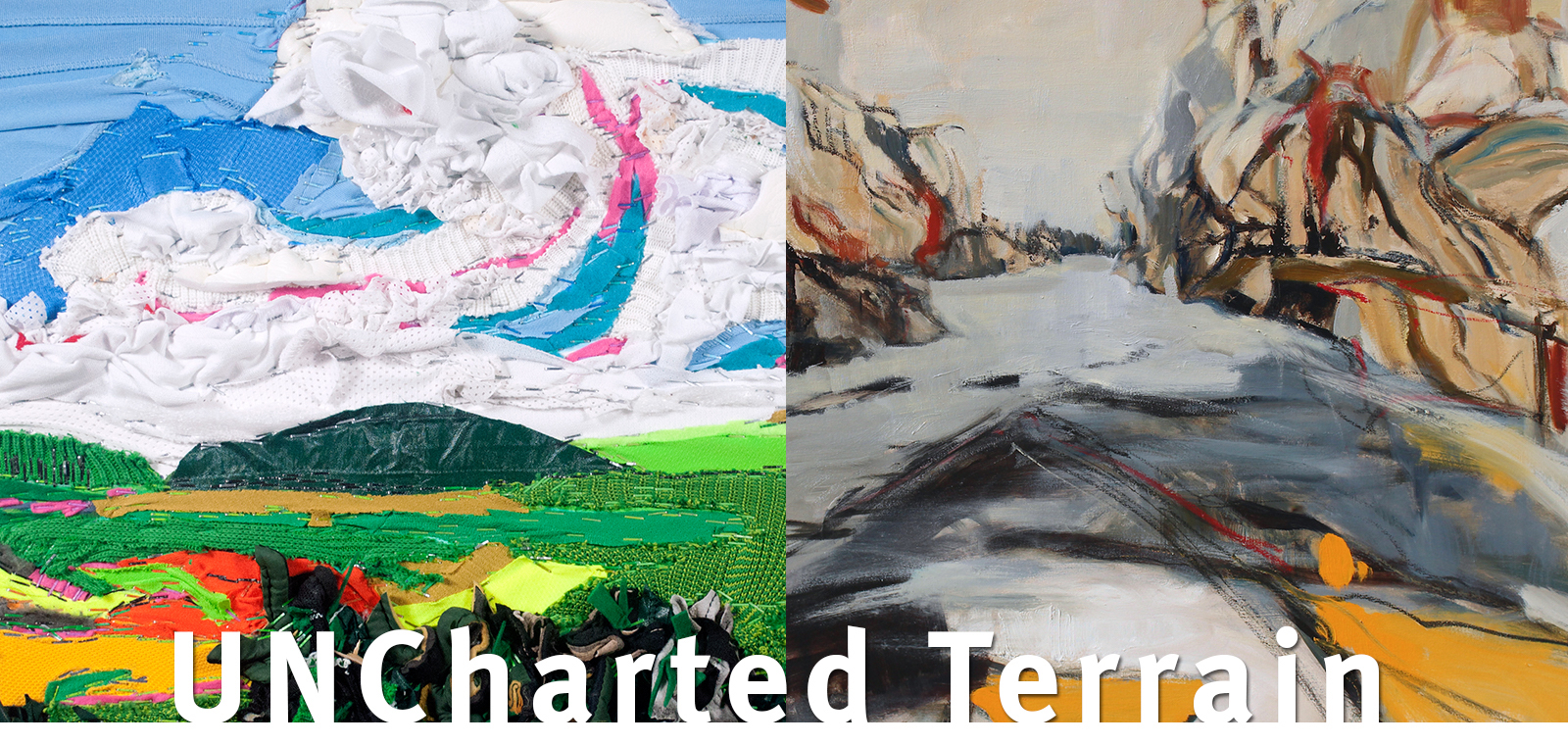 Liz Pead & Lisa Johnson
UNCharted Terrain
October 5 – November 3, 2019
Opening Reception: Saturday, October 5th, 2 – 5pm
Lonsdale Gallery presents UNCharted Terrain, an exhibition featuring fiber based works and ink drawings by Liz Pead and oil paintings by Lisa Johnson. Pairing two award winning female artists, each with their own signature visual and creative sensibilities, this exhibition mines the history of landscape painting. Liz Pead works are at once playful and provocative. Synthesizing craft and painting techniques, her works incite a dialogue about nationalism, art, representation and power. Lisa Johnson's painterly response to nature investigates how geography becomes embedded in the psyche and culture. What emerges is an engaging exchange surrounding the materiality of painting.
For over a decade, Canadian artist Liz Pead has been crafting multidimensional paintings from recycled hockey equipment. Her Canadian Landscape Series interrogates the relationship between the landscape and hockey – two highly codified symbols of Canadian identity. When Pead developed her series in 2007, she sought to emulate works by the Group of Seven using quintessentially 'Canadian materials'. What emerged was a potent contemporary critique that turns that period in the history of Canadian art on its head.
There is a sense of immediacy in Pead's work. For her, textiles are an extension of painting. Reinterpreting painting techniques and processes, she transforms unconventional materials – used hockey jersey and equipment, applied using staples and a power drill – into vibrant three-dimensional compositions. Swatches of brightly coloured hockey jerseys become bold colour fields representing the land and sky. White knits and padding are modelled into sublimely arresting cloud formations. Painted staples fleck the composition, further amplifying the artist's explorations of alternative materials.
Painting Canadian landscapes for over 20 years, Lisa Johnson's work engages with questions of space and the passage of time over an ever-evolving landscape. Johnson constructs expansive atmospheric vistas rendered through layering of loose planes of colour, punctuated with energetic gestural brushwork. When combined, these layers and fragments create a vibrant vision of the landscape; rooted memory, and the physical and psychological sensations of the terrain.
Johnson's compositions weave together pictorial and abstract sensibilities, designed to evoke a sense of space and movement. For Jonhson, landscape painting is a conduit for deeper artistic explorations. Grand rolling vistas that combine hard and soft elements, coalesce to form sumptuous sweeping depictions of the natural world. Johnson invites the viewer to become engrossed in her canvasses to experience the energy and underlying poetry of the landscape.
GALLERY HOURS
Wednesdays - Saturday
11am - 5pm
or, by Appointment
CLOSED LONG WEEKENDS
* Updated March, 2022
Hours may be subject to change. Please call ahead