(In)Form
Jim Hake, George Boileau, & Keith W. Bentley
July 25 – August 19, 2018
Lonsdale gallery is pleased to present an exhibition of contemporary sculpture featuring select work by Jim Hake, George Boileau and Keith W. Bentley.
(In)Form explores the relationships between materiality and representation in contemporary sculptural practices. Featuring sculptural work by Jim Hake, George Boileau and Keith W. Bentley, this exhibition examines how familiar objects and forms become transformed through material intervention into something new, carving out new spaces for articulating contemporary identities and narratives.
Jim Hake uses everyday objects and materials, like found gloves, plaster and ceramic, infused with a sense of humour to explore themes of memory and communication. Keith W. Bentley's vivid sculptures play with classical forms to question religion, sexuality and the canon of art. George Boileau's detailed figures situated in alienating structural environments convey the strength and dignity of humanity. Each draw on forms that at first appears familiar. Yet, through the combination of unexpected elements they become transformed, inviting deeper examination and contemplation.

Jim Hake, I Get Around (Lost and Found Series), 2014, gloves, mixed media, patina, 14 x 61 x 5 inches
Jim Hake's sculpture practice teases to the curiosity of the viewer with layered imagery and coded messages. "I Get Around", from the Hake's 'Lost & Found' series, is a wall-mounted sculptures created from lost gloves found on the streets of Toronto. These gloves are then modeled into letters in American Sign Language to compose terse, ironic and often humorous phrases taken from music and pop culture. He applies patinas to the surface, giving them aura of preciousness that stands in stark contrasts to their everyday materials. Hake's "Bubbles", are lively and effervescent. He groups colourful glazed ceramic spheres to create visually pleasing minimalist abstract compositions rendered in lush pastels.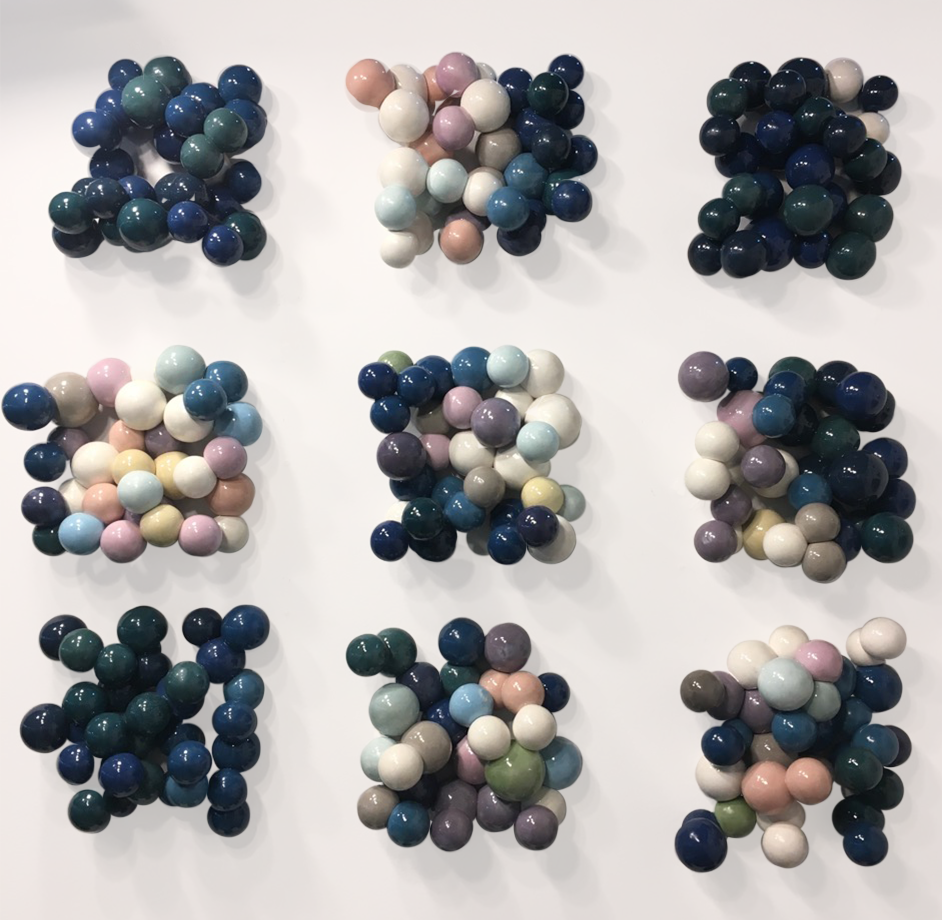 Jim Hake, Bubbles, 2018, porcelain, approx 10 x 10 inches each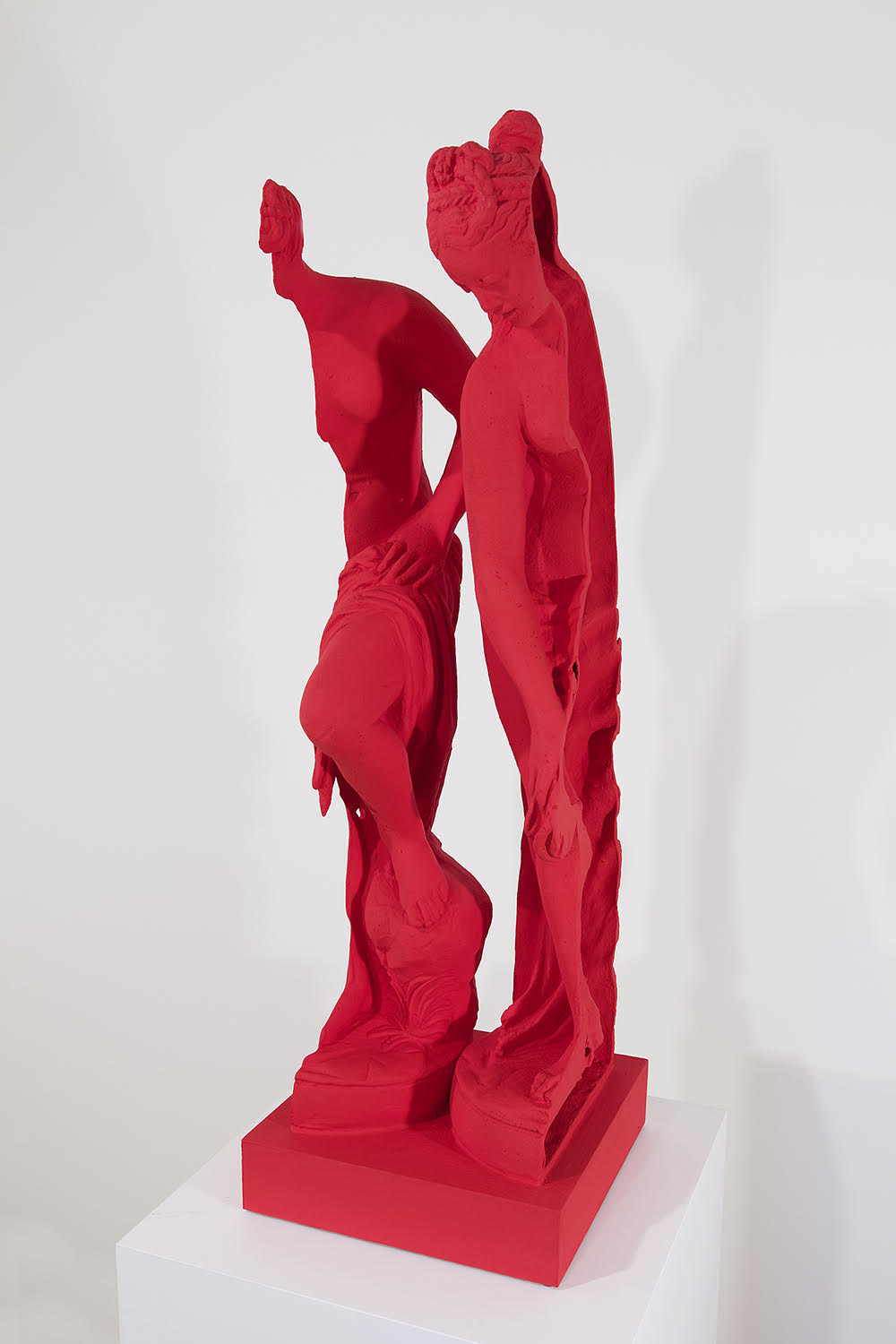 Keith W. Bentley, Dissecting Venus, 2015, resin sculpture, wood, steel, and paint, 37 x 15 x 12 inches
Keith W. Bentley's vibrant iconoclastic sculptures subvert classical forms culled from the archives of art history. His found objects cite the works of the great masters – Venus bathing, Rodin's the Thinker, Staverden Castle Peacock statues, Michelangelo's David, Baroque Pietas, and weeping Madonna statuaries. Bentley deconstructs and reworks these classical silhouettes, applying brilliant colours, to give them a fresh distinctively contemporary flavour. In doing so, icons that once stood for the ideals of masculinity, femininity and morality are made untenable. Giving rise to something different and unrecognizable.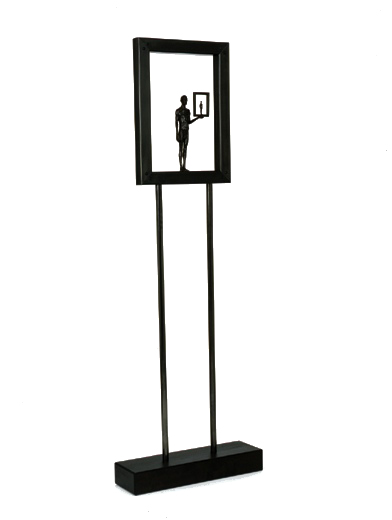 George Boileau, Man in Frame, 2003, bronze, steel and wood
George Boileau's bronze and steel sculptures offer a profound and thought provoking exploration of man's existence. His sculptural practice is often introspective, presenting poetic observations about contemporary everyday life. Boileau is interested in the structures that surround us, both man and self-made. His work often evokes feelings of isolation through his reoccurring use of a singular solitary figure. His "Man in Frame" depicts a figure standing holding a frame, which holds a smaller man housed within another frame. The solemn gaze of his figures captivate and drawn the viewer in, posing questions of how we present ourselves to the world. Whether confined within, or standing outside of, these man-made structures, the figures become a protagonist that expresses the intellectual strength, resilience and dignity of the human spirit.
GALLERY HOURS
Wednesdays - Saturday
11am - 5pm
or, by Appointment
CLOSED LONG WEEKENDS
* Updated March, 2022
Hours may be subject to change. Please call ahead