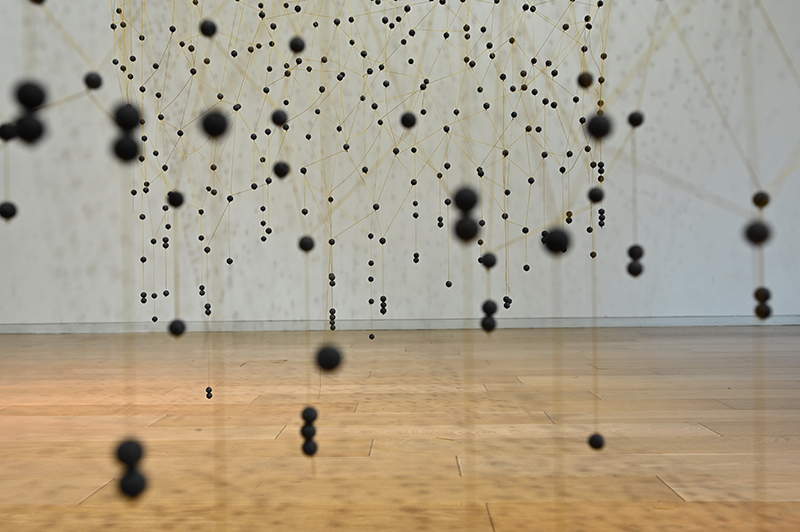 Xioajing Yan, Nebula, 2019, lava stone beads, golden threads
installation, DREAMLAND, Hermès Maison, Shanghai, China
It has been a sensational year for the talented Xiaojing Yan. She has been taking the art world by storm since 2018 presenting numerous ambitious projects that continue to receive critical attention and excite audiences.
In addition to her solo exhibition at the Varley Art Gallery Out from among the tranquil woods winning the 2018 OAAG Award for Installation and Exhibition Design, Yan's stunning immersive installations have been exhibited extensively throughout Canada and internationally at various institutions.
Below are some highlights of the outstanding projects by the artist:
Dreamland
solo exhibition
Hermès Maison
Shanghai, China
A Wanderer's Mind
solo exhibition
Art Gallery of Northumberland
Cobourg, Canada
Cloudscape
installation
Herman Hezog Levy Gallery
Royal Ontario Museum
Toronto, Canada
Glimmers of the Radiant Real
touring group exhibition
curators: Ruth Jones & Sam Mogelonsky
The Robert McLaughlin Gallery, Oshawa
Art Gallery of Peterborough, Peterborough
McIntosh Gallery, Western University, London
In Suspended Silence
solo exhibition
Richmond Art Gallery
Richmond, Canada
Auspicious Omens 祥瑞
solo exhibition
Curator: Xiaodong Fu
Suzhou Museum
Suzhou, China
January 19-March 4, 2018
Between Water and Mountains
solo exhibition
Zhangjiagang Museum
Zhangjiagang, China