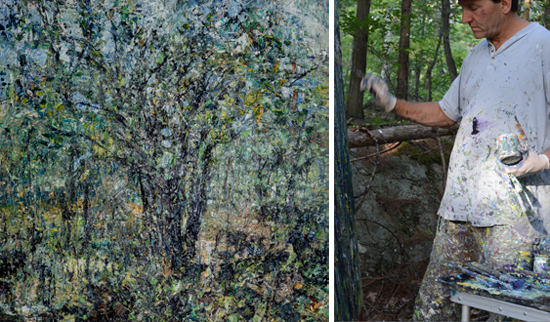 Jim Reid
(Un)cultivated
November 9 – December 15, 2013
Jim Reid's paintings document the shifting ecology of Central Ontario, tracing our cultural identity as it is reflected in the impact we have on our landscape. Reid illustrates this documentation in his new exhibition, (Un)cultivated.
Since the 1980s, Reid has chronicled the ebb and transformation of the Canadian Shield and Niagara Escarpment's old-growth forest.  The title (Un)cultivated reflects his engagement with areas which were once altered for farming or heavily landscaped but have today reverted to the unruly wild. Several paintings are products of a recent residency, which linked McMaster University's Fine Art and Biology departments: the "Plein Air Project" centered around a site near Dundas, Ontario.
"What is exciting to me is the energy of the constant transformations and upheavals that have been taking place on this terrain," Reid explains. "The land started as old-growth forest (which is still present on the margins), was cleared for farming in the 19th century, was later abandoned, and is now being re-colonized in a chaotic melee. The formerly groomed fields are now an ecological battlefield where overgrown grasses try to maintain their place against invading brambles and young trees. …These paintings tap into the tumultuous energies of the place and reflect the transformations that are occurring there."   He is particularly interested in the invasion of aggressive new species into Ontario forests that have few natural controls.
Reid works outdoors, immersing himself and his paintings in the environment that he aims to capture, in the tradition of the Group of Seven. Paintings are left on site to accumulate traces of the wild, and often sculpturally treated with collaged elements and gouged to emulate the depth of the woods. Paint is applied to his working surface with assertive, unapologetic strokes.
(Un)cultivated digs into Canada's ecological history. Reid explores nature's strength and ability to regenerate. This painter feels at home in nature, and shares a sense of unity with the geographic space and environment.   His comfort and confidence is expressed in both the scale of working surface and bold use of colour, and in his rich impasto application of paint that mimics the cumulative and regenerative growth of bark or the forest itself.
Working in the tradition of grand landscape painting (referencing such painters as Turner, Constable, and theGroup of Seven) as well as earth-works, Jim Reid refuses the confines of studio painting; instead, he portages his canvases into nature to capture the indomitable energy of our ever-changing landscape.
HOLIDAY HOURS:
Closed December 23, 2023 - January 2, 2024
GALLERY HOURS
Wednesdays - Saturday
11am - 5pm
or, by Appointment
CLOSED LONG WEEKENDS