Katherine Tzu-Lan Mann & Beth James
Reverie
August 30 – September 27, 2019
Opening Reception, Saturday, September 7, 2 – 5pm; Artists in attendance.
Read the ArToronto.ca Review by Maria Mendoz Camba
Lonsdale Gallery is pleased to present Reverie, an exhibition featuring a selection of new paintings by Washington artist Katherine Tzu-Lan Mann and Toronto artist Beth James.
Reverie describes a state of being pleasantly lost in ones thoughts. Like a daydream that infiltrates the subconscious and teases the recesses of ones mind. A similar experience emerges when regarding the paintings of Katherine Tzu-Lan Mann and Beth James. Their material and process-based explorations in abstraction, respectively, play with perception; oscillating between void and abundance, chaos and order, chance and control.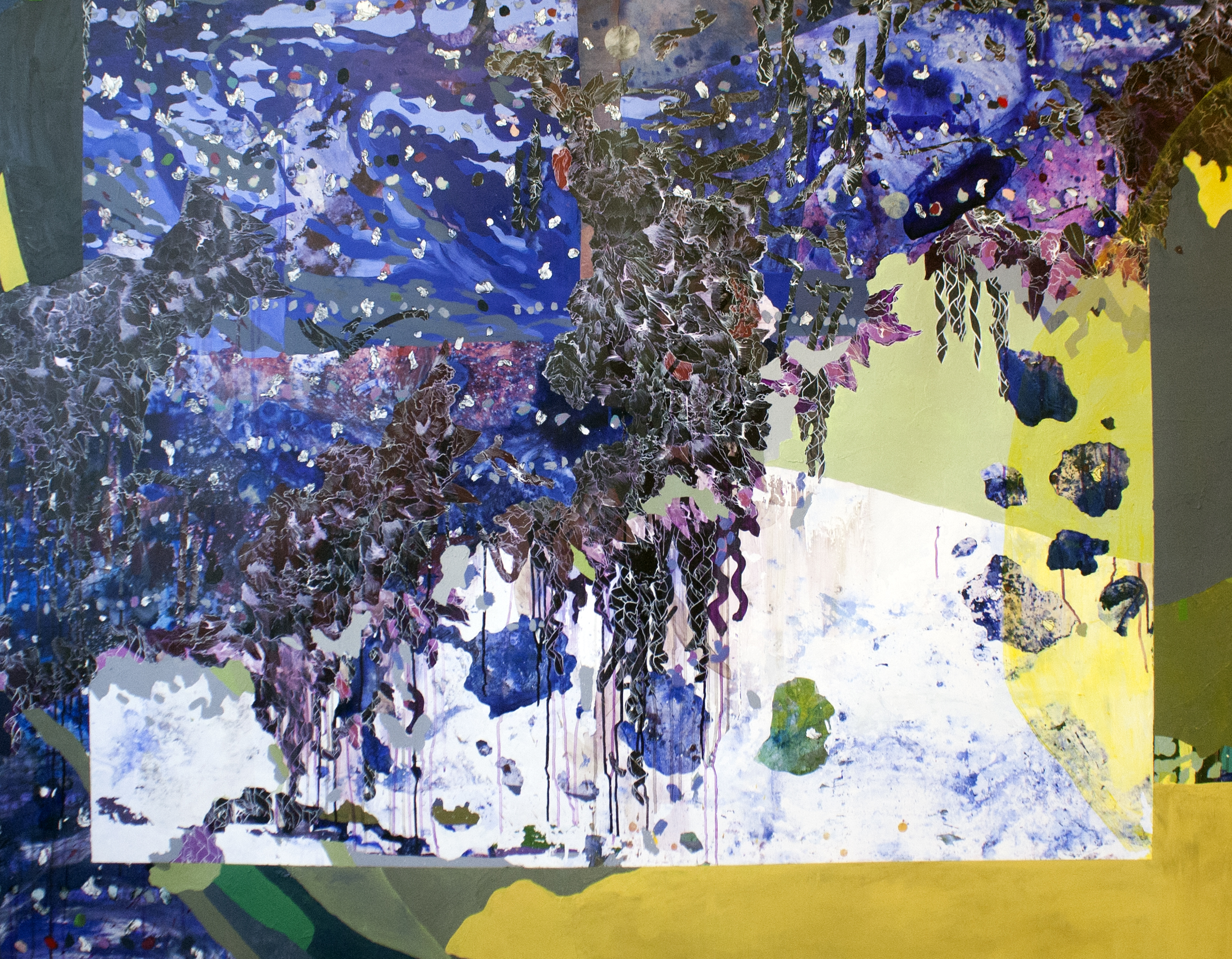 Katherine Tzu-Lan Mann, Dripstone, 2019
acrylic and sumi ink on paper, 55 x 70 inches
Katherine Tzu-Lan Mann explores ecological and geological cycles in her opulent and densely arranged large-scale paintings on paper. An American artist of Taiwanese decent, Mann draws inspiration from her early childhood training in traditional Chinese landscape painting to create a fantastic abstract vision of the natural world. Her recent series questions how painting can capture flux, abundance, waste, fertility, and the collision and collusion of diverse forms.
Mann's paintings skillfully combine hard-edged colour fields, fine line drawing, and loose dramatic swathes of colour. In Dripstone, a riot of bright gestural brushstrokes is set against a network of delicate black and white line work. Her lush colour palette of blues, purples, pinks, yellows and greens saturate the surface of the paper. Organic and abstract forms are spread throughout the surface, pressing against the painted edges, as if trying to escape from the pictorial frame. Mann deftly achieves great depth in her compositions through incongruity rather than perspective, intuitively arranging seemingly diametric elements together until they achieve visual harmony.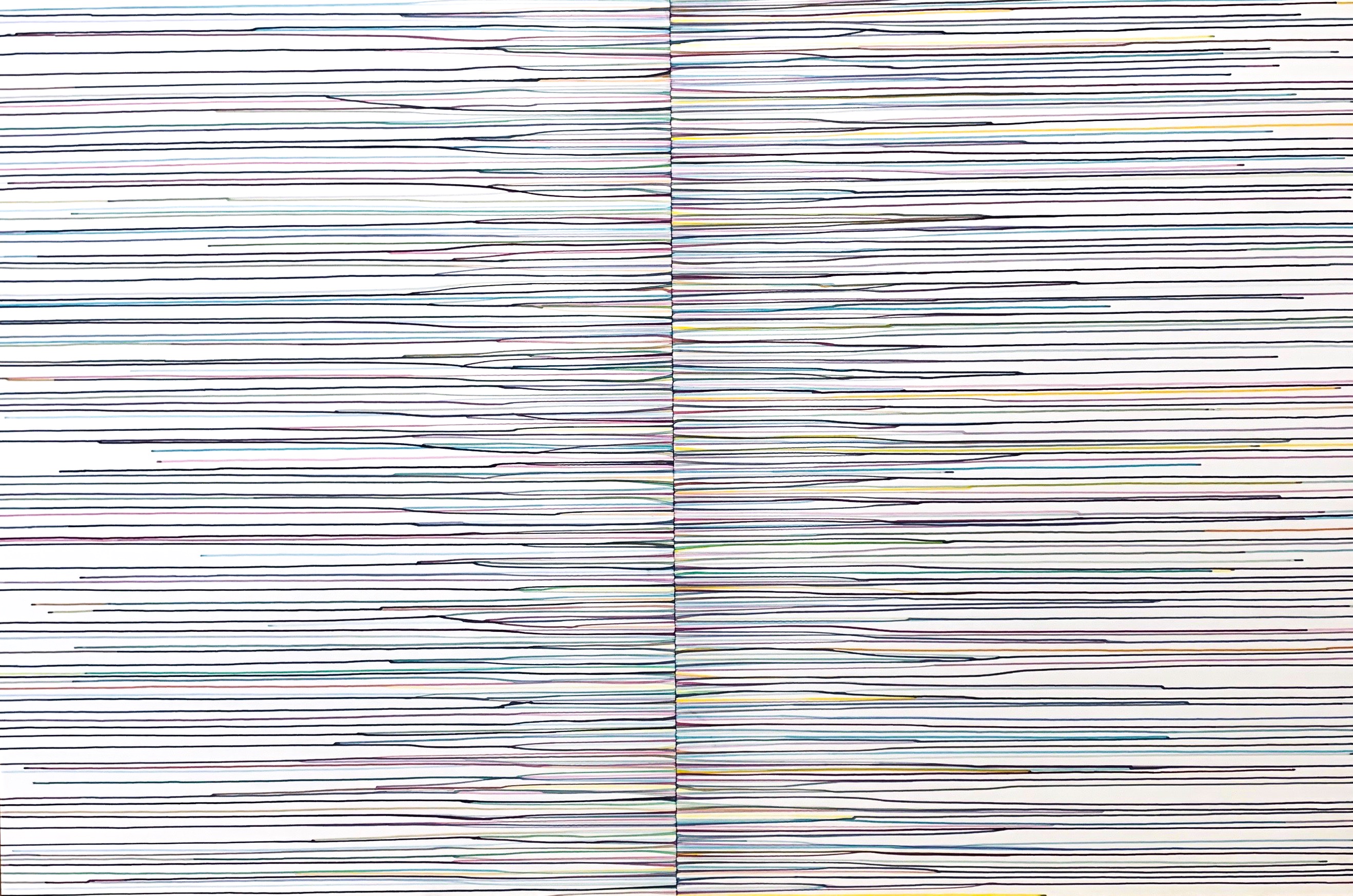 Beth James, Untitled (drips: ten thousand lines) CMYK 02, 2019
watercolour on paper, mounted on panel, 48 x 72 inches
Beth James' formal exploration of surface, movement and pattern reveal the expressive power of lines. James builds energetic large-scale linear abstract paintings from thousands of drips of watercolour that radiate outward from a central axis. The series began through observing paint rivulets splattered along the wall in the artist's studio. Inspired by the colour field paintings of Morris Lewis, and Jackson Pollock's gestural style of abstract expressionism; James considers how paint can move and the images it can produce.
James' formal process-based approach to watercolour explores the tension between control and chance, positive and negative space. In Untitled (drips: origins) CMYK, she produces mesmerizing optical effects by carefully dripping hundreds of individual lines watercolour across the surface of the paper, engulfing the composition. Using a small paintbrush laden with pigment, James carefully applies pressure to the paper to release a single droplet of paint. As gravity to pull the bead of paint down, lines of transparent colour intersect and overlay; revealing a splendid subtlety of transitions between colours, which produce diaphanous colouristic effects.
HOLIDAY HOURS:
Closed December 23, 2023 - January 2, 2024
GALLERY HOURS
Wednesdays - Saturday
11am - 5pm
or, by Appointment
CLOSED LONG WEEKENDS