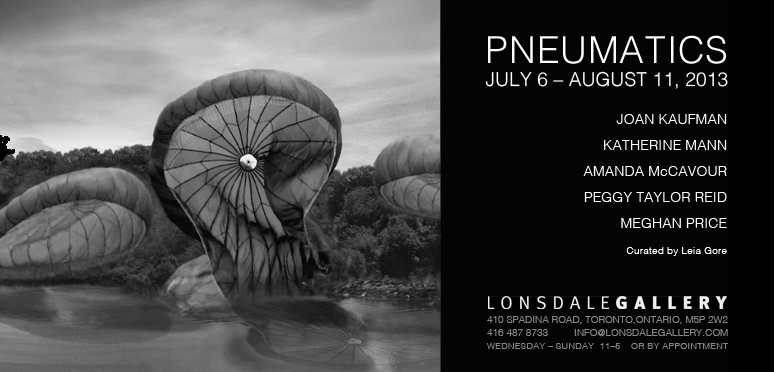 Joan Kaufman, Katherine Mann, Amanda McCavour, Meghan Price & Peggy Taylor Reid
PNEUMATICS
July 4 – August 11, 2013
Pneumatics explores five artists whose works span photography, drawing and painting, sculpture-based printmaking, and fibre constructions.  This group exhibition draws inspiration from the parachute imagery in Joan Kaufman's Paper Shadows series—digitally manipulated photographs overlaying found negatives documenting hundreds of high-altitude dives by an inveterate BASE jumper.
The term "pneumatics" refers to the science of air, to its movement, compression and force.  While most often associated with heavy industry and mechanization, it also refers to inflatable structures, or in the context of animal science indicates the pockets of air in the bones of birds enabling flight.
Pneumatics features Joan Kaufman's photography alongside the impossibly airy thread sculptures of Amanda McCavour, woven and wire-lace collograph interpretations of the flight patterns of starlings by Meghan Price, selections from Peggy Taylor Reid's Scorched series (photographs of smoldering birds nests), and paintings by Katherine Mann whose balance of roiling negative space and finely detailed illustrative linework recalls eddies of wind.  All of the artworks on view are products of lengthy, painstaking engagement.  Whether relating to the invisible dynamics of air, to birds and flight, or parachutes, the commonality lies in the invisible energy invested into their creation.  These are carefully rendered, sophisticated works.  A close look will yield a gale-force impact.
Curated by Leia Gore
image credit: Joan Kaufman, Paper Shadows 5.2 Parachutes Down
HOLIDAY HOURS:
Closed December 23, 2023 - January 2, 2024
GALLERY HOURS
Wednesdays - Saturday
11am - 5pm
or, by Appointment
CLOSED LONG WEEKENDS