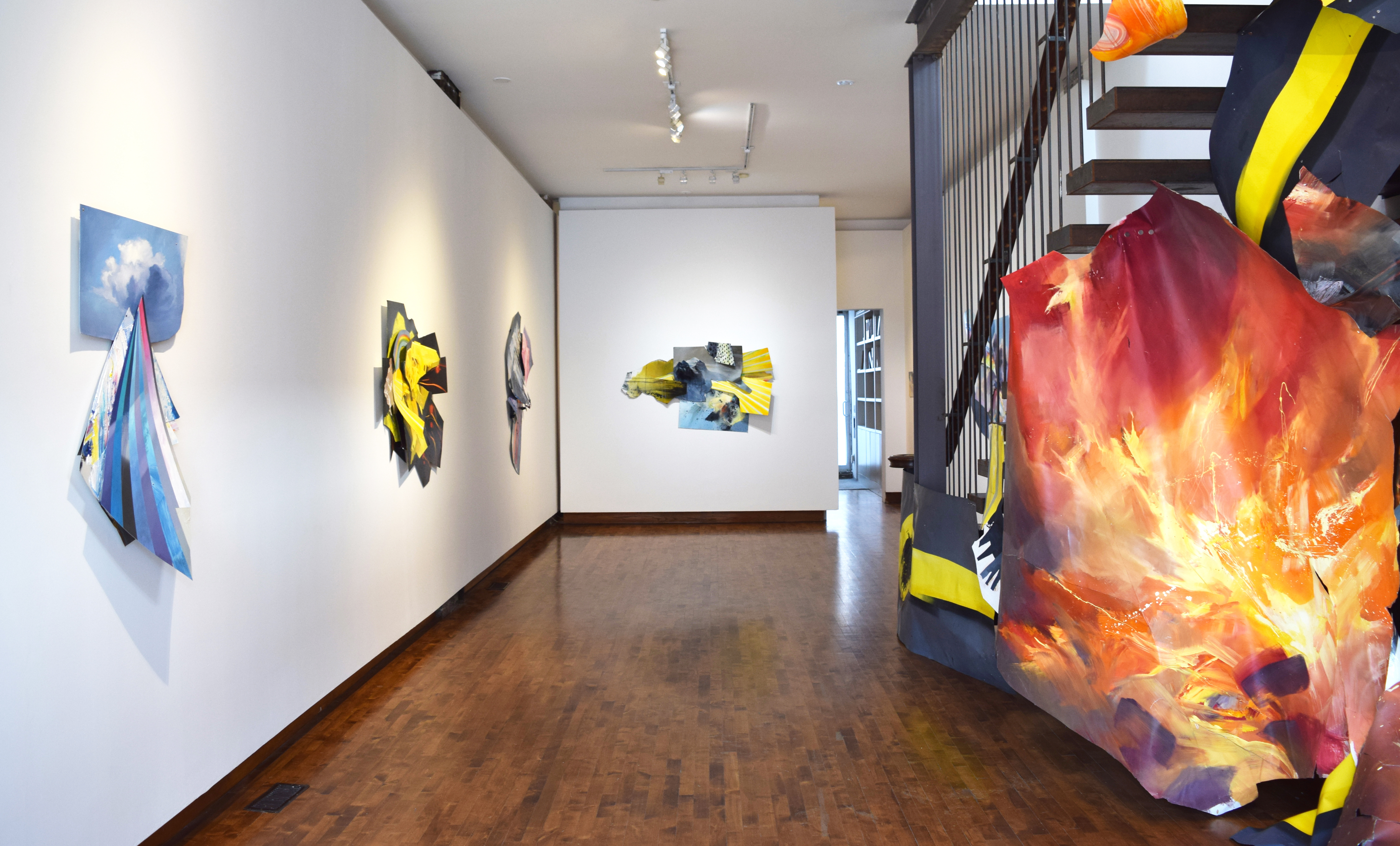 Peak Velocity
September 6 – October 6, 2017
Opening Reception Saturday, September 9, 2017, 2-5pm
Exhibition Preview: August 30 – September 1, 2017
Irish's dynamic painted aluminum constructions highlight the contradictions between natural abundance and industrial development.
During a recent residency at the Banff Centre, Irish began exploring the Rocky Mountains and the Athabasca Oil Sands. The artist struggled to reconcile the entanglement between the sublime natural beauty of the Albertan landscape and the pursuit of fossil fuels. Irish's sculptural compositions of mountain peaks and explosive colours are simultaneously frenetic and contemplative. These assemblages gesture energetically beyond their physical limits, picturing industry's unceasing activity and advancement.
Irish's process involves attacking and repurposing his materials, which, to him, mirrors resource extraction's abuse and reuse of the land. The artist enacts violence against his own work by slicing, bending, twisting and reordering his aluminum paintings. Drawing on art techniques used by the Gutai and Fontana, Irish uses destruction as a method for exploring the fraught dynamics between industry and nature.
Phil Irish graduated with an MFA from York University and a BA from the University of Guelph. He has exhibited work in public and commercial galleries throughout Canada and in the United States; including, the National Gallery of Canada, Oakville Galleries, Kitchener-Waterloo Art Gallery, Tom Thomson Memorial Art Gallery, Cambridge's Idea Exchange, Biola University (California), and Contemporary Museum (Baltimore). He has completed artist residencies in Newfoundland, Quebec, Vermont, and the Banff Centre.
HOLIDAY HOURS:
Closed December 23, 2023 - January 2, 2024
GALLERY HOURS
Wednesdays - Saturday
11am - 5pm
or, by Appointment
CLOSED LONG WEEKENDS