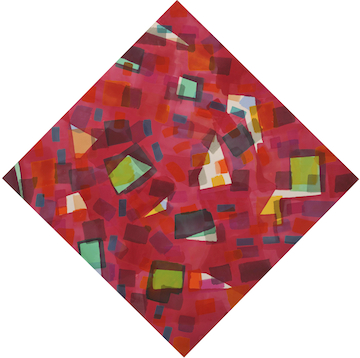 Pedie Wolfond
HARMONICS
September 21 – October 20, 2013
Harmonics is a solo exhibition by leading Canadian abstractionist Pedie Wolfond. In 2011, Wolfond was honoured with a survey exhibition titled Lumen at the MacDonald Stewart Art Center. This fall 2013, Lonsdale Gallery presents her latest series which features large-scale kaleidoscopic paintings awash with colour, several of which are hung as diamonds. Acrylic washes overlay raw canvas, emanating light with the transformative radiance of stained glass.
Pedie Wolfond's recent paintings are the exuberant offspring of Abstract Expressionism and Colourfield painting. Renowned curator and writer Tom Smart argues that while Wolfond's practice is indebted to these seminal movements in the history of modern art, her paintings amplify the spirited energy of this aesthetic. He writes, "its nuances and elasticity, rigidities and miraculous capacity to elevate viewers to entirely different states of consciousness.
Harmonics is accompanied by a catalogue, with a keynote essay by art historian Tom Smart.
HOLIDAY HOURS:
Closed December 23, 2023 - January 2, 2024
GALLERY HOURS
Wednesdays - Saturday
11am - 5pm
or, by Appointment
CLOSED LONG WEEKENDS