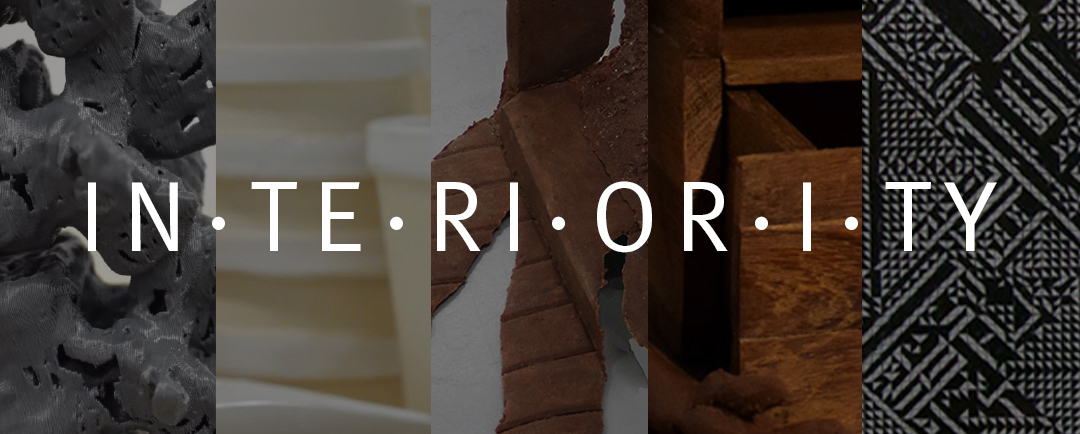 Andrew Atkin, Sam McGuire, Junaid Noorah, Cheryll-Ann Yelovich, & Jess Morris Wazney
IN-TE-RI-OR-I-TY 
A special presentation highlighting five graduating students from OCAD University's Sculpture & Installation Program
February 28 – March 9, 2019
Join us for the Opening Reception: Saturday, March 2, 2 – 5pm
Five emerging artists seek to visualize seemingly hidden internal subjectivities through artistic explorations of memory, man-made objects, language, and representation. IN·TE·RI·OR·I·TY questions how conscious or unconscious experiences can be expressed through careful consideration and study of every day objects and phenomena.
Junaid Noorah and Andrew Atkins' sculptures examine utilitarian objects and their relationships to the body and the culture we live in. Noora combines sculpture and furniture design, inserting surrealist figurative elements into his handcrafted wood objects. He deliberately anthropomorphizes functional objects, imbuing them with a life-like quality, inviting viewers to imagine the 'private lives' of these non-human entities. Atkins' stoneware ceramics explore the evolution of man-made objects and their relation to community. Atkins crafts replicas of disposable food containers, employing ancient coiled pottery techniques. Food containers are presented on 'vertical farms', containing living organic specimens. The artist invites the viewer to ruminate on the meaning and lifespan of these objects and their relevance to current and future generations.
Cheryll-Ann Yelovich and Jess Morris Wazney explore memory through direct and indirect references to the body. Yelovich life-sized bronze cast shadow, displayed alongside photographs, examines how personal narratives and memory are tied to particular sites. The artist interviewed subjects, asking them to share formative moments in their lives; then photographs their shadows in the sites where these events occurred. Wazney's anatomical sculptures and white monochrome embroidered canvases focus on the simultaneous absence and presence of the human body. A section of vertebras, cast from CT scans of the artist's spine after an accident, float, suspended between two plinths via magnetic levitation. In her embroidered canvases, Wazney crafts intricate patterns sourced from natural and architectural forms, references the body through the stark deliberate absence of figurative elements.
Sam McGuire's large-scale drawings on seemingly endless scrolls form abstract geometric patterns from complex networks of triangles. McGuire uses triangles as an indexical language, similar to binary code. The artist challenges himself when creating his contemplative works by adhering to one rule: "no two triangles can intersect to form a square". The symbol of the triangle in the Eucleidean alphabet commonly indicates 'difference' or 'change'. McGuire's work highlights the dissonance between expression, intention, and interpretation.
HOLIDAY HOURS:
Closed December 23, 2023 - January 2, 2024
GALLERY HOURS
Wednesdays - Saturday
11am - 5pm
or, by Appointment
CLOSED LONG WEEKENDS