The order society attempts to impose onto nature often proves to be imperfect. What people often perceive to be imperfection (chaos) in nature may in fact be a complex type of order.
Jim Reid and Peggy Taylor Reid often draw inspiration from the same rural Ontario landscape. Though they both draw inspiration from the same setting, their work is completely unique in style and concept. This exhibition shows the different interpretations of "ferals" by each artist.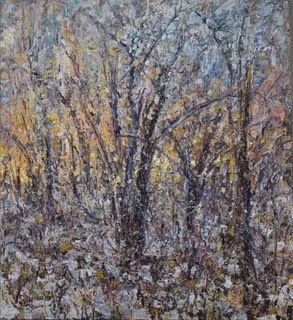 Jim Reid's new work is an extension of his "Ferals" series, the subjects being feral orchards and primal forests. These paintings are done on-site in the landscape: large canvases are portaged to different locations throughout the year, and the paintings evolve through the extremes of the Canadian climate. Most paintings take many months to complete and through this process become densely layered and slowly transform as the landscape changes. The modernist ideal of "Truth to Materials" is extended so that the painting-process becomes a metaphor for the timeless natural cycles of growth and decay.
Peggy Taylor-Reid documents nature through photography. This work is a continuation of the artist's ongoing exploration which contemplates objects as traces and shadows of our physical world. Taylor-Reid seeks to place the experience of looking into the realm of personal experience where the act of seeing is a path to new knowledge and understanding of the complexity in the natural world. The work is designed as a critique of our over confidence of the cultural power of science and commerce. The installation and photographic recording methods are pseudo scientific with the aim of directing the viewer to a more poetic understanding.
Taylor Reid's "Feral Apples" are catalogued and photographed in a way that reflects the two most powerful forces in our culture: science and commerce, yet they steadfastly refuse to conform to either model. They are imperfect, un-uniform, remnants of heritage varieties most of which have been abandoned by commercial producers. The apples reveal the wondrous complexity, variability, and tenacity of the natural world and have the added dimension of culture interacting with nature.
Lonsdale Gallery is located in Forest Hill Village and was founded in 1995
as a gallery of contemporary painting, sculpture and photography.
For information contact Chad Wolfond or Stanzie Tooth at 416-487-8733; info@lonsdalegallery.com 410 Spadina Road, Toronto, Ontario, M5P 2W2, Wednesday