Saw the Splendour | Something Still (August 22 – September 15, 2013)

Osheen  Harruthoonyan
SAW  THE  SPLENDOUR
August 22 – September 15, 2013
Osheen Harruthoonyan's photographs are studio constructions, where layers of black and white emulsion are chemically lifted, sculpted and collaged by hand to alter the negative.  Harruthoonyan's most recent compositions are uncannily familiar; they masquerade as documentation of the natural world, yet fall somewhere between reality and a lucid dream.  The images in Saw the Splendour reflect Harruthoonyan's awe of the wondrous mirroring of biochemistry and astronomy. These crisp, slightly abstract images can be seen as either the grandeur of the cosmos or microscopic views of activated molecules.
The solo exhibition Saw the Splendour was on view in the main gallery.  A group show title Something Still ran concurrently in the upper gallery: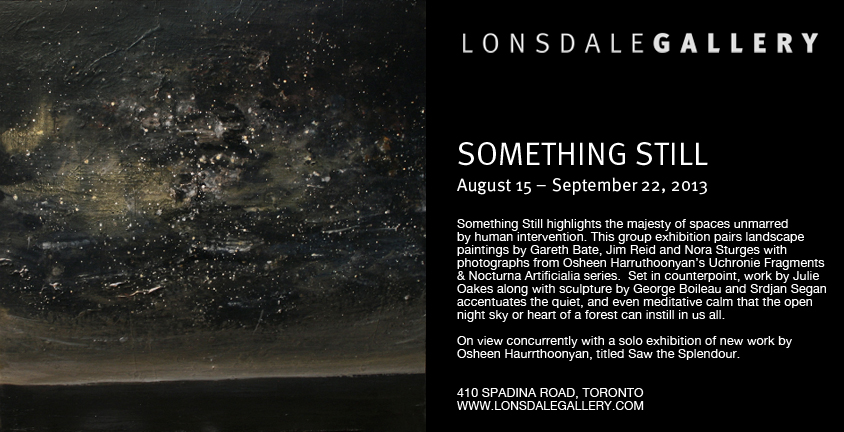 Something Still highlights the majesty of spaces unmarred by human intervention.  This group exhibition pairs landscape paintings by Gareth Bate, Jim Reid and Nora Sturges with photographs from Osheen Harruthoonyan's Uchronie Fragments & Nocturna Artificialia series.   Set in counterpoint, work by Julie Oakes along with sculpture by George Boileau and Srdjan Segan accentuates the quiet, and even meditative calm that the open night sky or heart of a forest can instill in us all.